Get the latest copies of "Oil Cheaper than Water" here!
no pushing please...enough for everyone...yes we take rubles
Primed the little boogers. They are amazing figs - but pretty tiny! Spray primer came out pretty clean, temp and wind were pretty good. I might give them a bit of a watered down wash of some olive paint, just to fill in any missed spots.
Medium light shot of the whole bunch. I bent the frames of some to make sure I had space to easily prime them. Paint was a Tamiya US Olive Drab - didn't want to go too dark. As I'm going to dip them anyway, not worried about going without primer. I figure Tamiya paint should hold out just fine even on the bare metal. Let's hope I'm right!
Bit of a darker shot, shows up the sculpting quite nicely.
some different lighting here...
Now, let's look at some actual pics and get ideas about Syrian forces now, and future:
https://www.presstv.com/Detail/2015/08/13/424545/Syria-Damascus-Aleppo-Idlib-Daraa-Takfiri-militants-
I dig this photo - plain helmet with red splotch badge...strongly contrasting ammo pouches. But hey - where's the beards??
https://special-ops.org/news/middle-east/syrian-army-fully-liberates-city-deir-ez-zor/
It's kind of amazing...the tan uniforms have green pouches, and green uniforms tan pouches. It's like they want to have the contrast as a uniform - perhaps it helps ID what troops they are? Not many beards...
http://asbarez.com/145402/syrian-army-takes-control-of-strategic-locations-in-aleppo-and-latakia/
White square Identifiers on helmet back?
https://www.presstv.com/DetailFr/2018/03/10/554998/Syria-Eastern-Ghouta
Ball caps, bare heads, tan web gear, plenty of facial hair.
http://usdefensewatch.com/2016/03/syrian-army-reaches-outskirts-of-islamic-state-held-town-of-palmyra/
Nice towel! Ready to go anywhere in the galaxy.
https://www.telegraph.co.uk/news/picturegalleries/worldnews/10210387/Syria-conflict-Syrian-army-recapture-key-rebel-district-of-Khaldiyeh-in-Homs.html?frame=2630510
Black fatigues to right
https://special-ops.org/news/middle-east/syrian-army-reportedly-eliminates-al-nusra-front-commander-daraa/
Nice contrast - black fatigues with ochre / tan gear. Probably police or militia.
Also, Syrian flag identifiers front and sleeve, w some kind of red badge on sleeve. Black helmets and face masks, tan stuff on a couple of the helmets...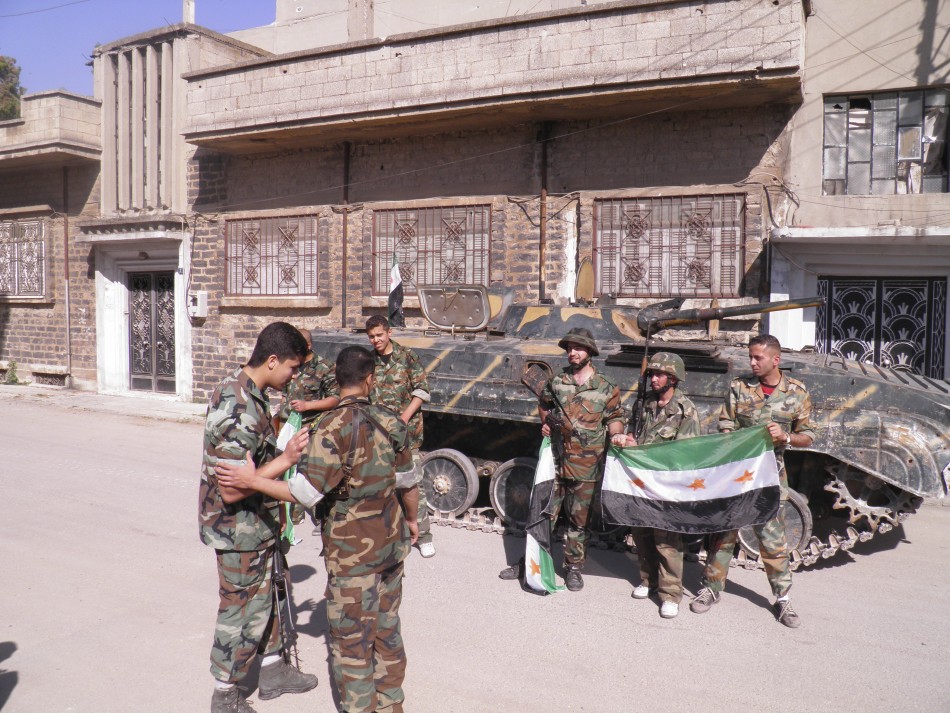 https://www.ibtimes.co.uk/syria-russia-news-cease-fire-syrian-uprsing-341264
Syrian Revolutionaries
http://www.spiegel.de/international/world/the-free-syrian-army-front-deserters-battle-assad-from-turkey-a-817225.html
https://www.presstv.com/DetailFr/2017/12/10/545150/Syrian-army-forces-allies-capture-areas-in-Hama-province
Fabulous pic! Civilian sweaters, black web gear, pulled up trousers and civilian sneakers instead of boots!
https://sputniknews.com/politics/201602131034715772-why-syrian-arab-army-enjoys-public-support/
Nice closeup of the BDU style camo. Bright Red beret and shoulder tabs interesting...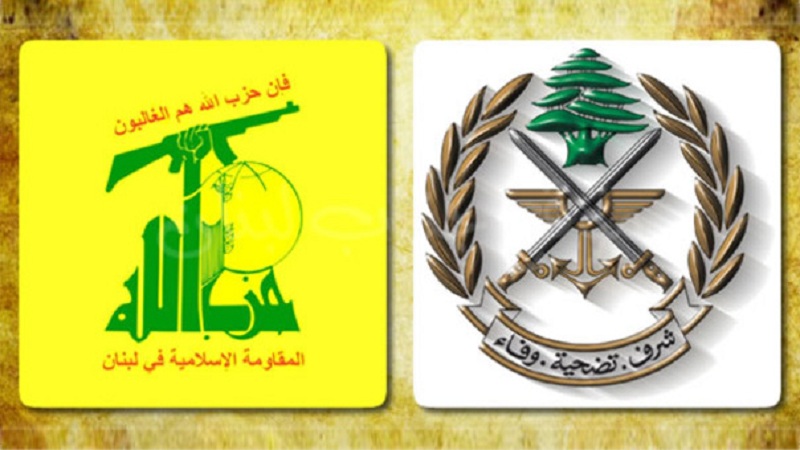 Hezbollah on left,
http://www.latimes.com/world/middleeast/la-fg-syria-opposition-patches-2017-htmlstory.html
Patches worn by Syrian opposition forces, clockwise from upper left: Syrian Self-Defense Forces, Free Syrian Army, People's Protection Units (YPG) and Syriac Military Council (MFS). (Molly Hennessy-Fiske / LA Times)
Syrian Infantry [L] and Armor Corps [R]
Islamic State patches, Syrian wrist band [
for hot days playing tennis?
]
https://forums.bohemia.net/forums/topic/215036-r-syrian-civil-war-insignia/
Paint Scheme and distinct details for Syrian Government Troops
HELMET: plain green or black [new?] may have tan mounting brackets or stripes. Possible red splotch front; white square on back to ID people?

FATIGUES: BDU style with large tan and bright green splotches, black lines - occasional black top, grey bottom, black fatigues with ochre web gear, tan/maroon/black.

WEB GEAR: strongly contrasting black, tan, or just tan ammo pouches.

FACES: brown/tan, Beards! Face covering; black or colorful shemagh that acts as tribal / national identification.

CIVILIAN: towels, sneakers, sweaters, nylon sport backback [black with colorful trim and patterns]

BADGES: Syrian flag ID front and sleeve, maybe long colors only or short flag patch with stars, some kind of red triangle badge on sleeve.

AIR PANEL, Vehicles: Syrian flags.

Weapons: AK shiny black with wood trims, black RPGs w' Ochre grenades.

Wrist Bands in Syrian National Colors
So, a lot of research could be put into this, but I'm not doing a force that exists now, necessarily, but one that may exist in 2020, so plenty of ideas here.
Next up, how to actually PAINT ALL THIS in 6mm!